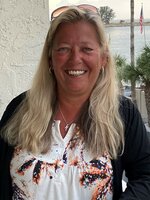 Colleen A. Mize Reynolds
Colleen A. Mize Reynolds, age 61, of Yaphank, died Sunday, July 17, 2022. Colleen has lived all her life in Yaphank. She has 2 older sisters (Pauline & Joy) who have predeceased her. She is survived by her younger brother John and has built a home on the family property in Yaphank . where she lives with her husband Bill Reynolds. She is blessed with one child, Jessica Sullivan and recently a grandchild, Isla Grace Russell.
Colleen attended Suffolk Community college and has become a licensed Insurance broker employed by Reynolds & Reynolds Agy of Bellport where she became office manager and owner. Colleen has enjoyed helping the customers and is highly respected by the local community of Bellport. She has enjoyed giving much to the community -- always encouraged donations to the "Veterans Place" of Yaphank and other good causes. Visiting hours will be Wednesday, July 20 from 2:00-4:00 PM & 7:00-9:00 PM at the McManus-Lorey Funeral Home, 2084 Horseblock Rd. Medford, NY 11763. Funeral Mass Thursday, July 21 10:00 AM at St. Joseph The Worker RC Church in East Patchogue. Burial in Yaphank Cemetery.