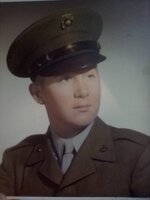 John Jacob Barringer
John Jacob Barringer, age 87, of Medford died Tuesday, July 19, 2022. John was born February 8, 1935 in Astoria, NY. John was a veteran of the US Marines during the Korean War.
Visiting hours will be Monday, July 25 from 9:00 AM - 10:30 AM at McManus-Lorey Funeral Home, 2084 Horse Block Road, Medford, NY
A Mass of Christian burial will follow at 11:00 am on Monday, July 25 at St. Sylvester R.C. Church, 68 Ohio Avenue, Medford, NY. Burial with honors will follow in Calverton National Cemetery, Calverton, NY.