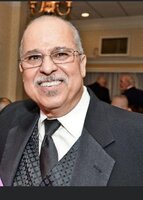 Gilberto Aragones
Gilberto Aragones, Jr., age 71, of Farmingville, NY. Died Friday, November 4, 2022.
Survived by his Beloved Wife Jane F. Aragones. His Loving Children Jeremy (Jessica) Aragones, Jennifer Aragones and Justin (Catherine) Aragones. Adored brother of Davis Aragones and Sandy Buckmaster. Cherished Grandfather of Ava Rose, Dominic and Brandon.
Visitation hours are Thursday, November 10 from 4:30 PM to 8:30 PM at McManus-Lorey Funeral Home, 2084 Horse Block Road, Medford, NY
A Mass of Christian burial will be held 10:00 am on Friday, November 11, 2022 at Church Of The Resurrection, 50 Granny Road, Farmingville, NY. Burial with Honors in Calverton National Cemetery, Calverton on Saturday, November 12, 2022 at 9:00 am.