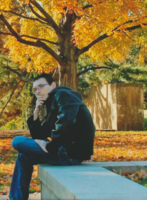 Tristan Robert Kruenegel
Tristan Robert Kruenegel left us too soon, but he has found peace.
Tristan was born on Eglin Air Force Base where he attended Shalimar Elementary School until the family moved to Coeur d'Alene, Idaho. There he attended Sorensen Elementary, Lakes Middle and Post Falls Middle School. He attended high school at Northern High School in Owings, Maryland. He also attended Suffolk Community College in Selden, New York.
Tristan was an amazingly generous and intelligent son, curious about the world around him. His vivid imagination and creativity was evident in his art, music, and his love for games. He tolerated fishing but loved to go to hockey games and hunt with his Dad. He also loved to shop, bake, and talk with his Mom about everything. He followed us on every adventure and saw more of the world than most ever will. He is our 3rd musketeer and we will keep him with us on the rest of our adventures.
Tristan's will live on in the beautiful memories of his family and friends. He is survived by his parents, Jason and Carri (Hand) Kruenegel, Grandparents, Bill and Linda Hand, Barbara Thornton and Mike Kruenegel, Uncles, Joshua Kruenegel, Jared Kruenegel, and Corey Hand.
Memorial visitation under Covid19 social distancing guidelines will be Saturday, January 30 from 2:00 - 5:00 PM at McManus-Lorey Funeral Home, 2084 Horse Block Road, Medford, NY. This service will be live streamed for those who are unable to attend. Please visit this link: https://client.tribucast.com/tcid/88186718