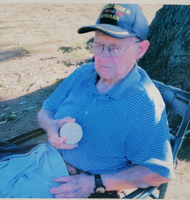 Edward Peter Beyer
Edward Peter Beyer, age 96, of West Hempstead died Tuesday, February 2, 2021. Edward was born September 2, 1924 in Brooklyn, NY. He is the son of the late Herman and the late Barbara (Roth) Beyer. He was predeceased by his first wife, Marian Beyer and his second wife Muriel Record-Beyer.
Edward served in the US Army during World War II from 1943 to 1945. He served with Darby's Rangers in Anzio, Italy. He also served with the First Special Service Force; A combined US and Canada unit. He retired from the NYC Highway Dept.
He is survived by his loving children; Marianne Gerstmann, and her late husband John; Michael Beyer and his wife Gail; Janice Beyer; his caring step-children; Bobby Record and his companion Joyce; Joe "Jay" Record and his wife Karen; and Yvonne Hock and her husband Charlie. He is survived by his adoring grandchildren Josh, Sean and his wife Krystal, Peter and his companion Christina, Jenny, Michael, Christopher, Brad and his wife Jessica, Lindsey, and Edwards's cherished great-grandson, Hudson.
Edward is also survived by his caring extended family Jim and Charlotte, Tony and Debbie, Devon and Tyler.
A private visitation will be held on Wednesday at the McManus-Lorey Funeral Home, 2084 Horseblock Road, Medford, NY 11763.
The funeral service will be private as well on Wednesday, February 10 at McManus-Lorey Funeral Home, 2084 Horse Block Road, Medford, NY with Rev. Randy Paige officiating. Burial with honors will follow in Calverton National Cemetery, Calverton where he will be laid to rest with his first wife Marian.