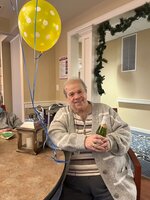 Nancy Lena Bernocco
Nancy Bernocco, age 84, of Medford died Saturday, May 28, 2022. Nancy was born January 5, 1938 in Brooklyn, NY.
Visiting hours will be Sunday, June 5 from 3:00 PM to 7:00 PM at McManus-Lorey Funeral Home, 2084 Horseblock Road, Medford, NY
A Mass of Christian burial will be held at 10:30 AM on Monday, June 6 at Saint Anthony of Padua R.C. Church, 614 NY-25A, Rocky Point, NY with Rev. Len Sabbio officiating. Burial will follow in Calverton National Cemetery, Calverton on Monday, June 6, 2022 .