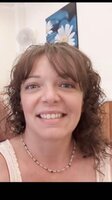 Kelly Frances Williams
Kelly Frances Williams, age 44, of Medford died Tuesday, June 21, 2022. Kelly was born April 9, 1978 in Rockville Centre, NY.
Beloved daughter of Joseph and Denise Williams; Loving sister and sister-in-law to Scott, Christian, and Melanie; Devoted aunt and Godmother to Natalie, Eli, and Jake. Affectionate partner to Rob Schwartz; and an amazing cousin, niece, and friend to many.
As an organ donor, she gave as much of her life as she had to give to preserve the lives of others. Who does that, but heroes?
Visiting hours will be Friday, June 24 from 2:00 - 4:00 PM & 7:00 - 9:00 PM at McManus-Lorey Funeral Home, 2084 Horse Block Road, Medford, NY
A private cremation will be held on June 25, 2022.
In lieu of flowers, Kelly's family requests donations in her memory to The LAM Foundation, https://www.thelamfoundation.org/Take-Action/Donate-Now
~or~