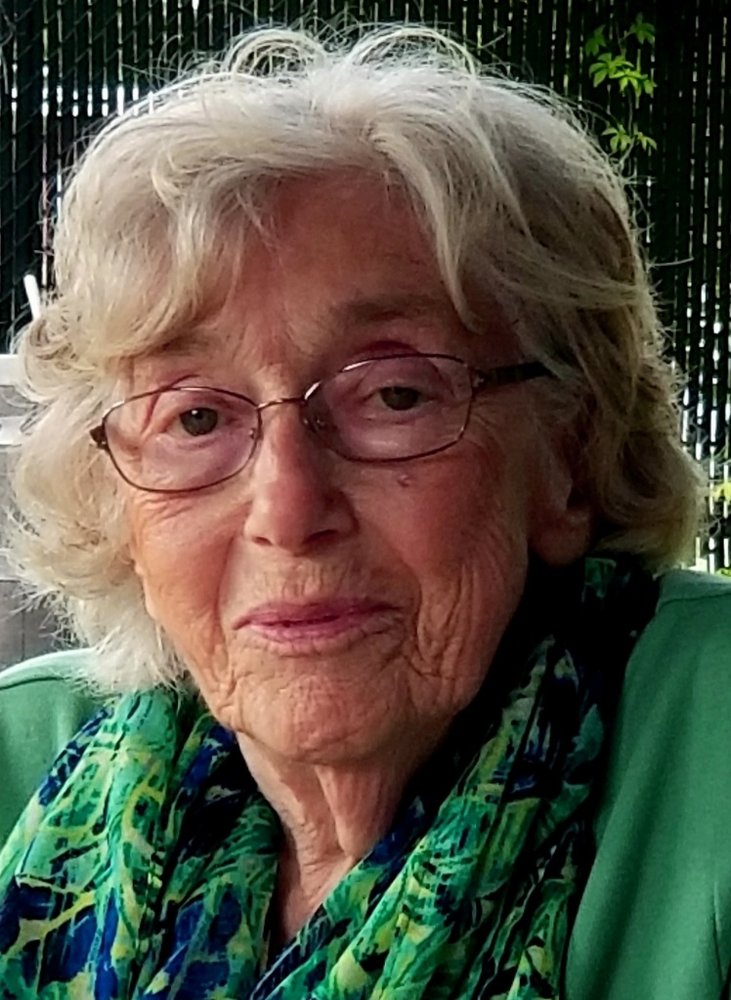 Obituary of Bernice E. Saetta
Bernice "Tootie" Estelle Saetta, 91, peacefully passed away at home on October 14, 2019 with her loving family by her side. She was born to the late Walter and Lillian (nee Henderson) Mierisch, June 3, 1928 in NYC, NY. She married Joseph Charles Saetta of Coney Island, NY and they moved to Holtsville, NY in 1954 where they ran a small business and raised their children. Joe left us too soon in April of 1973.
Bernice is survived by her 5 loving children Joseph (Colleen) Saetta of Bayport, NY, Richard (x Nancy) Saetta of Cat Island, Bahamas, Robert (x Mary) Saetta of Orient Point, NY, Janet (Roberto Jimenez) of Brooklyn, NY and Gail (Matthew Russell) Saetta of Holtsville, NY.
"Nanny" adored her grandchildren (Elizabeth, Stephanie, Kathryn, Christopher, Richard, Johanna, Dana, Lillian, Travis and Joseph) and her great-grandchildren (Claire, Abigail, Henry, Lydia, Tyler, Wyatt, Dakota). "Tootie" was like a sister to her sister-in laws, Marilyn McGroary and Jeannette Canepa. "Aunt Tootie" adored her many nephews and nieces, their children and grandchildren. She was a loving "Mom" to everyone and a loyal friend to many.
Words about Mom from her eulogy:
Mom went to school for dress design and she was a seamstress as a young woman. She lived in the Bronx and worked at Lord & Taylor in Manhattan. She loved that time of her life with her good friend Marie they had fun being young in NYC. She also loved to sing and dance. She had a beautiful voice and boy could she Lindy. She met my Dad when she was out dancing with her Aunt Hannah who she adored. Dad loved to dance too, and they fell in love.
After they were married and in their early twenties they moved out to Long Island. They bought a piece of property in Holtsville and split the land. My Dad and Uncle Tom first built our home and then built theirs right next door. To this day 65 years later we still live next door to each other. My Mom was an only child so she was very close with my Dad's sisters, my Aunt Marilyn who lived next door and my Aunt "Vinny" Jeannette who moved to Holtsville around the same time. Mom and my Aunts still had tea together 3 times a week and we called them our Golden Girls.
We grew up in a kind of community with family in and out and friends always around. Through the years our door was always open so we never knew who might be sitting at the table with us for dinner. Our friends liked to be at our house. Dad was always doing some type of creative project or taking us to the beach or fishing.
We never had a lot of money, but my parents worked hard and got by. They had a business making cake toppers for weddings and other special occasions. My dad was the creative one and Mom the designer. It was not easy for them with 5 children to care for, but they managed.
Dad passed suddenly in 1973 from a heart attack. Mom was devastated but had to be strong. Thankfully, there were many people that helped us in the early years. Mom and my Aunt Marilyn took over the business and called it Star Figurines. They worked together and ran a successful cottage industry for over 35 years. They never made a lot, but they made enough to live and always had a good time in the process.
Mom never wanted to remarry, her business, and her children and grandchildren filled her life. The holidays and parties were always at Nanny's house.
Mom was always active, she loved to walk and to go to Manhattan with my Aunt. She loved looking into her family genealogy with my sister, they'd spend hours together and have many generations of our family documented. Mom loved to cook and sew and do gardening. She loved flowers and except for the winter months there is always something blooming in our yard.
She was always strong and healthy with a better memory that all of us kids put together. It was not until her mid-80s that she developed rheumatoid arthritis and then vascular dementia. The combination was crushing at first as she lost much of her freedoms but as the deceases progressed, she was more accepting, and we had so much fun just loving the little things in life. She was a character for sure. She loved butterfly kisses, music of all kinds but she really loved Frank Sinatra. The funny thing with dementia it doesn't impact the part of your brain that remembers music. She would not be able to articulate her thoughts in words, but she could still sing the words of songs she knew perfectly. So, we played music and sang all that time.
Mom was in tremendous pain the last year, she fought for as long as she could. In the end she had her family with her as her heart gently came to a stop.
Mom was someone that loved unconditionally, she welcomed and accepted everyone. She loved her children, grandchildren and great grandchildren with all her heart and worried about everyone.
Mom carried herself with a simple grace, she was truly an exceptional woman that we were so very blessed to have in our lives.
Words about Nanny from her eulogy:
Everyone who knew my grandmother, Tootie, or Nanny knew Her generosity of spirit:
knew her door was always open and there was always space for you, and any of your struggles, fears, or accomplishments, at her table

Knew that you needed no invitation, no pretense, and that you, and any one else you might have in tow, could show up for a cup of coffee, a meal or a bed.
The house my grandfather built housed all of us, but it was her energy and endless kindness that made it what it was.
I had the privilege to grow up in an apartment in that house, and there was never any difference between her front door and my parents front door. She allowed me to believe they were the same, which was a courtesy she extended to everyone she loved. And it had always been that way - before her house was filled with grandchildren it was filled with her children, their cousins, and half the neighborhood.
My father once told me that when he was young, and money was tight, she often invited his friends to stay for dinner and quietly gave her meal to them, so that there would be enough for everyone, but no one would notice her sacrifice. Nanny seemed to live on love, with food and sleep being optional. In her home the rules were simple: always share what you have, be it time, food or laughter - there was no scarcity as long as we had each other. And that is one of the most important things my grandmother taught me, the power of community. We are so much stronger together than we are apart.
She did all of this quietly, and lead by example. She was a quiet source of strength, like so many of the things we take for granted, she was there when you needed her, and there when you were off on your next adventure waiting for you to come home or send a postcard - like the legs we stand on and the air we breathe, you can't quite understand the gratitude you feel for this consistent source of support, love and acceptance, until it is gone.
She was everybody's cheerleader, everybody's mother, everybody's friend - I could use countless words of kindness and strength to describe her, but the truth is Nanny, and her memory, are ineffable. It's impossible to describe the ache we all have in our chests right now, a pain that is only equal to the gratitude we feel. Grief is the price we pay for love, and Tootie's love was endless.
If she were here she would not want us to cry. She would want us to love each other.
"People will forget what you said, people will forget what you did, but people will never forget how you made them feel" - Maya Angelou
To plant a tree in memory of Bernice Saetta, please visit Tribute Store
Visitation at Funeral Home
4:00 pm - 8:00 pm
Thursday, October 17, 2019
McManus-Lorey Funeral Home
2084 Horse Block Road
Medford, New York, United States
Mass
10:00 am
Friday, October 18, 2019
Holy Cross Lutheran Church
307 Hawkins Ave.
Ronkonkoma, New York, United States
Final Resting Place
Waverly Cemetery
P.O. Box 72
Holtsville, New York, United States
Share Your Memory of
Bernice
A Caring, Family Owned and Operated Business Serving the Medford, New York and Surrounding Area